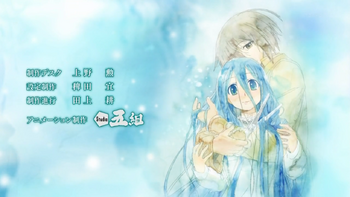 Kimi to Futari (君と二人, Kimi to Futari? In Two with You) is the ending theme for Dansai Bunri no Crime Edge anime series. It sung by YUKI*KARI and shown starting The Portrait of Heresy.
futari de aruku kaerimichi furimuku to kimi ga waratteiru
kizukeba boku wa mainichi to iu atarimae o daiji ni sezu ni

deatta koro no kimochi sae wasurekaketeita
kakegae no nai kisetsu kimi o mamoru to chikatta no ni

kyou to iu taisetsu na ichipeeji kitto wasurenai
futari da kara aruite yukeru boku wa kono te o hanasanai
二人で歩く帰り道 ふり向くと君が笑っている
気付けば僕は 毎日という 当たり前を大事にせずに

出会った頃の気持ちさえ 忘れかけていた
かけがえのない季節 君を守ると誓ったのに

今日という大切な一頁 きっと忘れない
二人だから歩いて行ける 僕はこの手を離さない
Full Ver.
Edit
futari de aruku kaerimichi furimuku to kimi ga waratteiru
kizukeba boku wa mainichi to iu atarimae o daiji ni sezu ni

deatta koro no kimochi sae wasurekaketeita
kakegae no nai kisetsu kimi o mamoru to chikatta no ni

kyou to iu taisetsu na ichipeeji kitto wasurenai
futari da kara aruite yukeru boku wa kono te o hanasanai

namida nagashita koto sae mo hanikande gomakasu kimi ni
boku ga dekiru subete no koto o shiteagetai sou omotta nda

toki ni kotae ga mienakute tachidomaru kedo
atatakai taiyou no you na kimi ga soba ni iru kara

daisuki to kimi ga yasashiku warau kokoro tokasu you ni
deatta koto wa unmei da kara futari mirai o tsumuideku

kyou to iu taisetsu na ichipeeji kitto wasurenai
futari da kara aruite yukeru boku wa kono te o hanasanai

daisuki to kimi ga yasashiku warau kokoro tokasu you ni
deatta koto wa unmei da kara futari mirai o tsumuideku
二人で歩く帰り道 ふり向くと君が笑っている
気付けば僕は 毎日という 当たり前を大事にせずに

出会った頃の気持ちさえ 忘れかけていた
かけがえのない季節 君を守ると誓ったのに

今日という大切な一頁 きっと忘れない
二人だから歩いて行ける 僕はこの手を離さない

涙流したことさえも はにかんでごまかす君に
僕が出来る 全てのことをしてあげたい そう思ったんだ

時に答えが見えなくて 立ち止まるけど
暖かい太陽のような 君がそばにいるから

大好きと君が優しく笑う 心溶かすように
出会ったことは 運命だから 二人 未来を紡いでく

今日という大切な一頁 きっと忘れない
二人だから歩いて行ける 僕はこの手を離さない

大好きと君が優しく笑う 心溶かすように
出会ったことは 運命だから 二人 未来を紡いでく
Anime ending screenshots
Edit